September 27, 2021 by Sarah MacFarlane - A&S News
Faculty of Arts & Science alumna Samantha Martin-Bird has earned critical acclaim for her writing, a pastime she picked up during the pandemic. 
Last June, she won the 2021 Indigenous Voices Award for unpublished poetry in English for "the indian (adultery) act & other poems." But her poetry wasn't destined to remain unpublished for long. ROOM, Canada's oldest feminist literary journal, recently featured "the indian (adultery) act" in its Indigenous Brilliance issue, lauding the poem for its use of "humour and a calm severity to expose the racist policies enacted by the Indian Act."
A member of Peguis First Nation, Martin-Bird grew up in Kitchener-Waterloo and Upstate New York before moving to Toronto to attend U of T. She double majored in Indigenous studies and diaspora & transnational studies, earning her honours bachelor of arts in 2014 as a member of St. Michael's College. She then completed a bachelor of education program focused on Indigenous pedagogy at the First Nations University of Canada in Regina.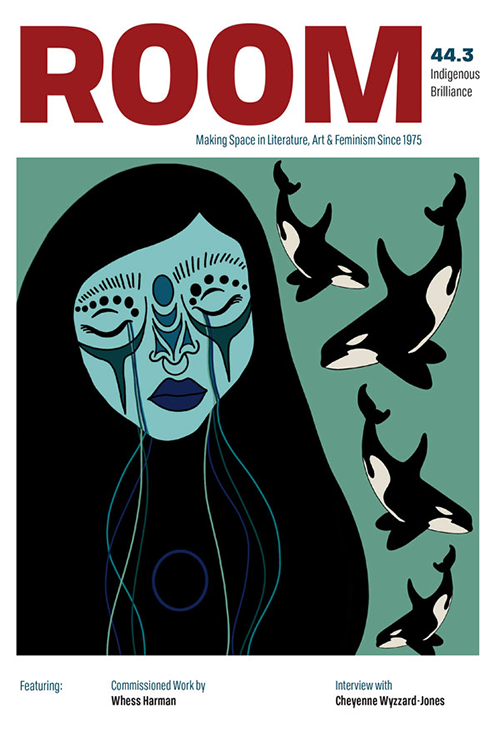 In 2019, Martin-Bird joined the Thunder Bay Public Library to help lead its decolonization initiative, and last year, she began her current role as program partner at the Mastercard Foundation, where she works on the Canada Programs team with a focus on Indigenous youth education and employment. 
Congratulations on winning an Indigenous Voices Award! How important is this award to your work? 
I was very surprised to win the award because I only started writing in the past year as a pandemic hobby. The recognition from this award has led to a few unexpected opportunities to share my work with others at poetry events, and so I'm thankful for that. 
What inspired you to write "the indian (adultery) act & other poems"? 
The poems are about men, the land and the languages, specifically Cree and Anishinaabemowin. I started with the poem, "the indian (adultery) act." I drew inspiration from a conversation I had with a nêhiyaw man, who shared with me that he wished he had married a Cree girl. The irony of this confession was that he had; his wife was Cree, and more importantly, she was a 6(1) Status Indian. However, she didn't grow up in her community, or even in Canada; she was raised in Europe. As such, her demeanour, sense of humour and cultural identity were not Cree. As someone who has often contemplated the extent to which status should influence who I start a family with, I was struck by the way in which finding a 6(1) partner can still end in immense marital discord and loneliness. I started the poem with the line, "i shoulda married a cree girl," and built the poem out from there. In a way, this poem is about the way the Indian Act continues to wreak havoc on Indian relationships. 
What drew you to U of T for your undergrad, and how was your experience as a U of T student?
I chose the University of Toronto for its program in Indigenous studies. Although I didn't know it is existed until my second year, I also thoroughly enjoyed the diaspora & transnational studies program.
My experience as a U of T student was transformative. Before moving to Toronto, I was living in a small semi-rural town in Upstate New York. I spent much of my first year quite culture shocked, but I am so thankful for the time I spent at U of T. I enjoyed my programs, especially the Anishinaabemowin (Ojibwe language) courses I took.
I lived on campus for my entire degree, so I was also able to participate in many campus experiences, such as dorm life and student clubs, where I formed a lot of lifelong friendships. 
Can you please tell us about your work in developing and leading initiatives that focus on Indigenous engagement and education, including at the Thunder Bay Public Library and the Mastercard Foundation?
During my time working as the Indigenous relationships supervisor at the Thunder Bay Public Library, I was able to work in a variety of ways to continue the decolonization work of the library. I focused on trying to create spaces that were welcoming and safe for Anishinaabeg. I organized events that featured Indigenous speakers, authors, poets and writers. I started an Indigenous book club exclusively for Indigenous library users. I also helped deliver a program with Sheridan College which led to the co-creation of Indigenous furniture for the library. 
For the past year, I have been working at the Mastercard Foundation on the EleV program. This work is focused on addressing inequities in employment and education so that Indigenous young people can realize their visions of Mino-Bimaadiziwin, the good life. Our work prioritizes systems change by partnering with post-secondary institutions and Indigenous-led organizations. Across the country, young people are the drivers of change in their communities; my role at the foundation is to ensure Indigenous young people are included in the ongoing design and delivery of our partnerships. 
How did your degree in Indigenous studies and diaspora & transnational studies help prepare you to have this impact in the community? 
My experience in Indigenous studies in university was one of the first times I had the opportunity to learn about Indigenous history, including the history of residential schools and colonization, and to study an Indigenous language (Anishinaabemowin). The program also helped me better understand my own family history. I did not understand the ways in which colonialism and intergenerational trauma affected us before that program. Ultimately, it helped me understand the ways in which colonialism is the root of many of the challenges Indigenous communities face today, which has helped me in my career working with Indigenous communities.
What's next for you? 
I hope to continue to work for Indigenous young people through my role at the Mastercard Foundation.
Please support our Indigenous Students' Scholarship Fund. For more information, contact Heather McLean, Director of Development, at heather.mclean@utoronto.ca or 416-978-1844.
Tags